I'm usually not one to ask or answer questions like "what is the 'in' decorating color or what is your favorite color?"…..these questions typically evoke one word answers that take on the significance of a design 'holy grail' with their easily embraced, sound-bite nature.  As most designers know, there really isn't 'in or out' colors, it's about how you use them, it's about the mix.  And how can I pick just one favorite color?  But truth be told, there has always been one color I have struggled with in interiors and that is turquoise.
What I love about Interior Design is the collaboration and the inspiration I share with my clients.  I learn to see things in new ways as I translate their vision into a home.  This journey often has winding roads that take me to unforeseen destinations.  When I first met with my potential clients, they brought along a collection of room photographs carefully curated from magazines.  I perceived a common thread in the hundreds of images they showed me; clean lines, contemporary furnishings mixed with antique accent pieces and light-neutral color palettes contrasted with dark woods.  They told me they wanted to replace all their existing furniture and I would have a clean slate.  Oh, this is music to my ears!
Before starting the project, my clients took a vacation in the Caribbean and when they returned they had a new vision. They wanted to recreate the feeling of the Caribbean, and the new color palette was inspired by the deep blues and turquoises of the water.  Somehow, I had to figure out a way to incorporate the flavor of the Caribbean into a house in upstate NY. The family room was a fairly new addition and had beautiful natural pine trim and indigenous stone from Lake Ontario was used for the fireplace surround.
My 'Aha Moment' was when I threw caution to the wind and selected the deepest, richest, most brilliant turquoise velvet to upholster the sofa and a pair of club chairs.  I realized I could make this work by balancing the intensity of the turquoise with equally rich indigenous woods like the walnut and maple combo entertainment – desk unit I designed.  The walnut base coffee table from Baker had a travertine top that complemented the stone fireplace, yet its grain pattern was evocative of ebbing tide on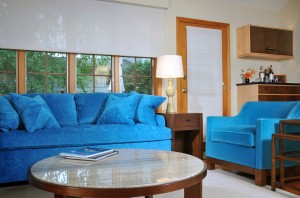 a sandy beach.  Navy blue leather on seat cushions softened the transition of the seating in front of the fireplace without detracting from the natural beauty of the stone.
This room was such a surprise for me as I now see the beauty of the color turquoise and became comfortable using it in an interior. My client's desires allowed me to make bold color choices and push me past my comfort zone.  A room like this is not for everyone, but it shouldn't be.  My clients are unique and this room expresses who they are and what they love.