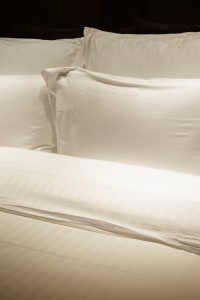 As times goes on, I find that I desire fewer things….but the things that I do desire I have become much more selective about.  First I became a "coffee snob" then I became a connoisseur of olive oils and my latest fanaticism has to do with pillows.
Down pillows are the best.  That is the conclusion I have come to.  Like anything else, the old adage "you get what you pay for" is absolutely true when it comes to down pillows.
What to look for:
'FRESHNESS ASSURED' – This is a label that guarantees premium quality feathers and down are sourced from the finest regions in the world, are then carefully sorted, graded and meticulously cleaned to ensure that the feathers are hypo-allergenic being free from dust and odor.
AMERICAN DOWN AND FEATHER COUNCIL – This seal of approval means that the manufacturer participates in the labeling compliance program, meaning that if a product is labeled "Down" it is required to have a minimum of 75% down cluster and down and feather blend products must have the exact percentage of Down/Feathers listed.
'DOWNMARK' This is a label instituted by the DOWN ASSOCIATION OF CANADA. This group randomly purchases feather/down products and tests them for quality, cleanliness and labeling.
Humane Treatment of Animals:
When purchasing top quality down products, you know that the feathers are being sourced from reputable farmers who do not pull feathers from live birds, but preen loose down and feathers in a similar way as you would brush a dog to get rid of loose fur. Although considered controversial, much of feather/down collection is a derivative of the poultry industry.
Why I Love Down Pillows:
Down pillows have a way of molding themselves to the sleeper's head which provides a wonderful cradling effect to the head and neck and therefore support. The pillows naturally adjust according to body movements.  If you require firmer support, for the lumbar region for instance, using a higher percentage of feather to down can provide you with a range of support options.
The downside of down is cost, but the upside is investment.  A pillow or comforter can last for generations if properly cared for, making it arguably a eco-friendly textile.
{ Comments on this entry are closed }