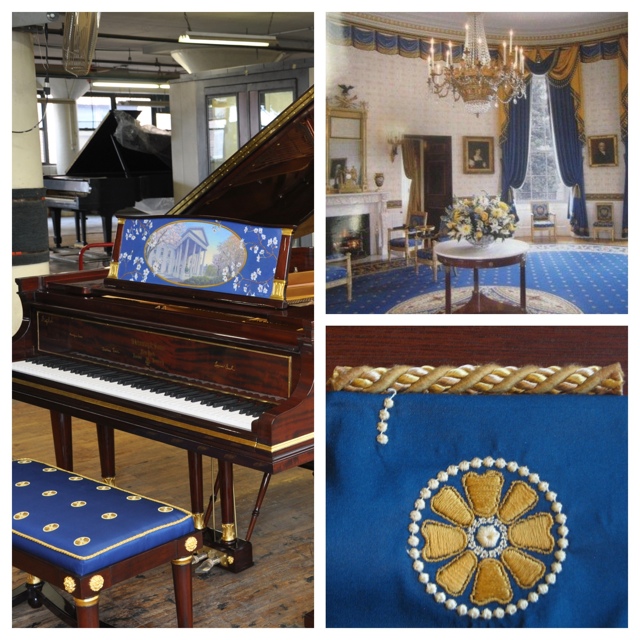 Clockwise from left: The Finished 'First Lady Piano' at the Steinway & Sons factory in NYC, The Blue Room at the White House, Detail of the final embroidered medallion used to create the Piano Bench fabric
Collaborations can be so rewarding, especially when you have an opportunity to work with other professionals who are at the top of their field. This was certainly the case on a recent project involving Steinway and Sons, Artist Rick Muto and Embroidery Artisans at Penn & Fletcher. The concept for this piano was conceived by Performer-Singer-Pianist Michael Feinstein as a vehicle to raise money at an auction for the Alzheimer's Foundation. Titled "First Lady Piano" because it would be personally signed by all the Living First Ladies.
Steinway & Sons provided the baby grand piano and shipped components to Decorative Arts Studio in Rochester, NY where Rick Muto designed and painted a beautiful spring-time image of the White House framed in branches of cherry blossoms. The color palette for the imagery was inspired by famous White House's Blue Room. The staff at Robin Muto Interiors researched fabric resources to upholster the piano seat. We discovered that the original fabric was custom made by Scalamandre, who offered to reproduce the fabric. The amount of fabric required to create the seat cushion did not justify the costs of setting up looms to weave the pattern. As it turned out, the perfect shade of blue silk was found at Brunschswig & Fils and the gold medallion motif was embroidered by Penn & Fletcher from detailed drawings done by Rick Muto.
For additional images on the design process to create this piano, please see the previous blog.
{ Comments on this entry are closed }